Chin Augmentation
Conveniently located to serve Dallas and Plano, TX
Key Points:
Dr. Lam use of an extended anatomic implant and likes to refer to the procedure as truly a "jawline implant". In the old days "button" implants were used that had problems after a while because these short implants could shift over time. Dr. Lam's implant has wings that are tucked under the periosteum (lining of the bone) and placed under the mentalis (chin) muscle so that it should never move and should remain stable for one's lifetime. In addition, these extended implants create an encapsulation with collagen tissue that keep it firmly in position.
It is important before contemplating a chin implant to ensure that one's dentition (bite) is normal and does not need orthodontic (braces) or orthognathic surgery (jawbone advancement). If one's bite is normal or if one has had braces already, then a chin implant can offer an excellent solution. However, some individuals who have not had their orthodontic work performed may elect to have orthognathic surgery, which can be considerably more expensive with a much longer recovery time. However, it should be considered as an alternative to chin augmentation with a chin implant.
Men and women differ from what may be considered an ideal chin size and degree of projection. Using Gonzalez-Ulloa's line drawn through the nasion (nasal root) and perpendicular to the Frankfort Horizontal line, we can determine general guidelines for ideal chin projection. Men should be at the line or slightly in front of the line. Conversely, women should be at the line or slightly behind the line. When unsure of the exact size of the chin implant, it is almost always better to upsize a male slightly and err on a smaller size for a woman.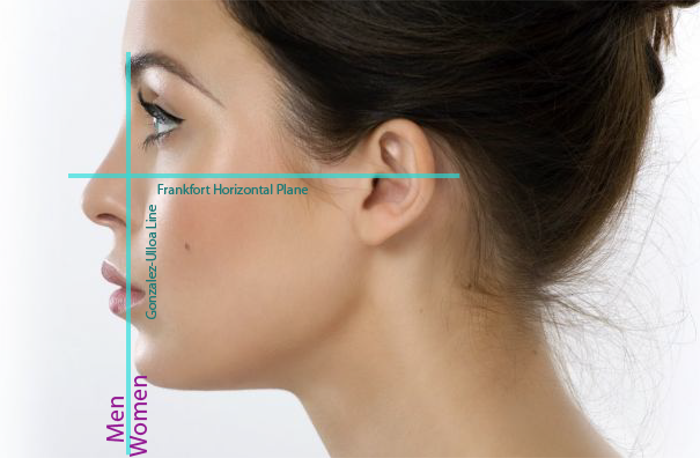 Your Chin Augmentation will be performed by Dr. Lam' surgery center located in Plano, TX.



Videos:
Photos: